DSTC Careers Strategy
The government's Careers Strategy, launched in December 2017, and statutory guidance updated in October 2018, set out a range of new requirements for schools and colleges.
What are the key points of the Careers Strategy?
1. The Gatsby Benchmarks
The Gatsby Benchmarks are a framework of 8 guidelines about what makes the best careers provision in schools and colleges. From January 2018 schools should use the benchmarks to guide their careers activity provision, with the aim for all schools and colleges to meet all 8 benchmarks by 2020.
The 8 Gatsby Benchmarks are: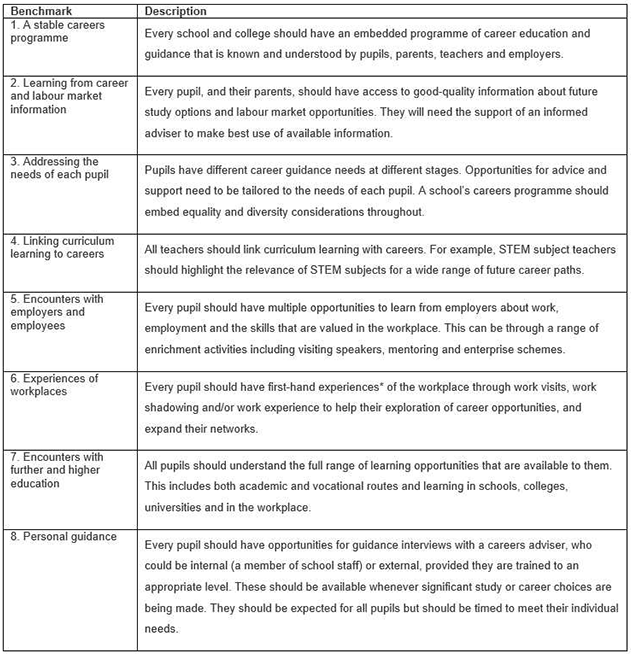 At DSTC we evaluate the impact of our Careers Programme against the Gatsby Benchmarks using the Compass Tool. This evaluation is completed in February each academic year, with an interim evaluation taking place during the Summer term.
You can find a copy of our most recent Gatsby Benchmark evaluation below:
The next full review of our Careers Programme will be in February 2022
2. A Careers Leader
From September 2018 schools and colleges will need to have a named Careers Leader in place, responsible for running the careers programme.
At DSTC our Careers Leader is Mr Allen, Assistant Vice Principal. You can contact Mr Allen by emailing matthew.allen@dstc.kent.sch.uk or by phoning 01322 224309.
3. Local Careers Hubs
A Careers Hub is a group of 20 to 40 schools and colleges in an area, working with education and training providers, employers and career professionals to deliver the Gatsby Benchmarks.
DSTC is currently working in partnership with 2 Enterprise Advisors and is working towards joining a Careers Hub with other local schools and colleges.
4. One employer encounter every year, for every student
By 2021, our intention is for every young person to have at least one careers-based experience, every year during school years 7-13.