Welcome to DSTC Post 16
As Post 16 students you will be embarking on the most important phase of your academic career to date and making the decision about where to study is sure to evoke an equal mix of excitement and trepidation. Here at DSTC we strive to make the transition process as smooth as possible. Whether joining our Post 16 community as a new or existing student, we are committed to ensuring that you receive the support and guidance you need to realise your full potential and achieve your ambitions. Our aim is that you leave DSTC Post 16 fully prepared for the next exciting steps on your chosen career path.
We have a wealth of experience which allows us to offer the highest quality provision in a stimulating and supportive learning environment. We are becoming a popular choice, not only for our students but for students from other schools as well.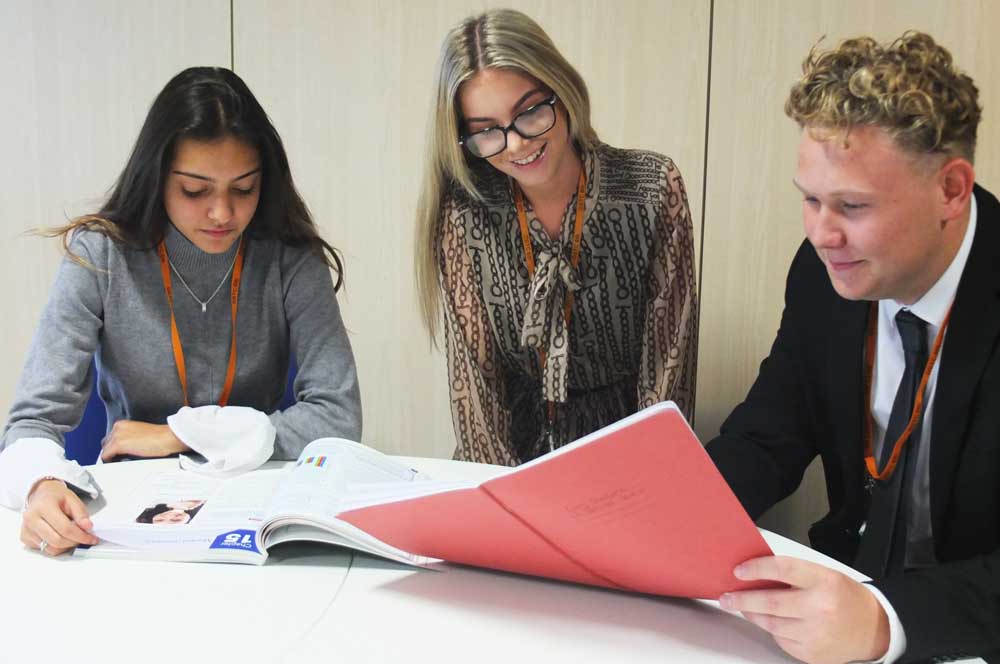 Our curriculum offers a diverse learning programme with a wide variety of subjects, which include both traditional and applied courses. DSTC currently offers both A Levels and Applied Subjects, as described in the course directory below.
In today's competitive job market, we believe it is important that our students seize every opportunity to develop their knowledge and skills beyond the classroom. In addition to developing your intellectual abilities, there is scope for you to develop other valuable skills and qualities, such as resilience, confidence, teamwork and independence. All students are given the opportunity to follow our enrichment programme, which includes the Duke of Edinburgh award and the Extended Project Qualification. We also offer a wide range of opportunities to develop employability skills and contribute to the wider school community.
We pride ourselves in offering students a high level of support in planning for their future. Our students benefit enormously from clear, comprehensive and impartial careers advice both from our dedicated Post 16 Tutor Team and external advisors from Connexions, The University of Kent and Kent County Council. This year we saw 66% of the cohort progress on to their first or second choice of university, with the rest embarking onto exciting career and apprenticeship pathways.
Do come and visit us and experience DSTC Post 16's unique atmosphere for yourself. We very much look forward to welcoming you!
Judith Ijewere
Post 16 Raising Standards Leader
Entry Requirements
The opportunities available to you in the Sixth Form depend upon the grades you achieved at the end of Key Stage 4. In addition entry is dependent upon a successful interview to which a Progress File and/or your most recent school report should be brought.
In order to study Level 3 courses you must have achieved a minimum of five GCSE passes at grades 9 – 4 (or A*-C for old specification courses), including English and Maths at a grade 4 or above, or a Merit in a relevant Level 2 vocational qualification. Some A Level courses require you to have achieved a particular grade in that subject.
Please see the A Level Courses Guidance Document attached for more information about the entry criteria for all our courses.