Vision, Ethos and Equality
"Everyone Excels In all Endeavours"....
At DSTC, we value each and every one of the students in our care. As a thriving foundation school, we strive to bring out the very best in everyone who engages with our school community.
Our students:
Will make above expected progress in all subjects at all levels, through quality first teaching in a culture of excellence.
Will be challenged, supported and inspired in equal measure, through appropriate pathways from Key Stage 3 to Key Stage 5.
Are proactively supported through their adolescent years, becoming morally well-grounded young adults.
Will become the best version of themselves, making the most of the excellent opportunities available to develop their character.
Will make a positive contribution to the local community, working in partnerships where appropriate.
Will embrace the Co-operative Trust values of self-help, self-responsibility, democracy, equality and solidarity.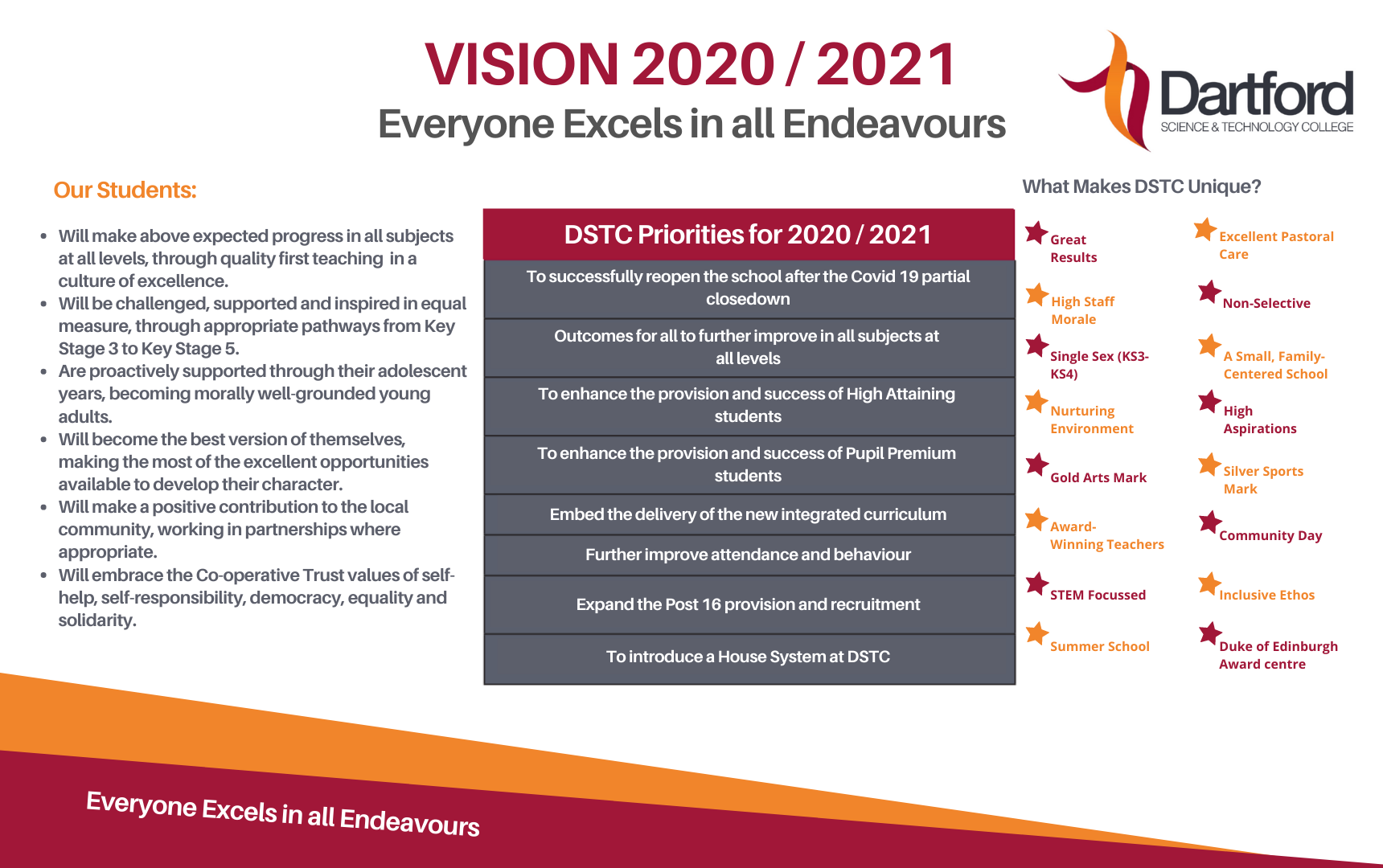 Equality Objectives 2020-21
Whilst continuously aiming to improve the implementation of equality related policies and procedures, Dartford Science and Technology College has established the following objectives for the college year 2020-21:
To analyse the academic progress of specific student cohorts and put intervention plans in place as necessary to support progress.

Analyse behaviour data re. representation of specific groups and put in place strategies to tackle any issues highlighted.

To audit the involvement of student groups students in 'whole college life' (extra-curricular opportunities such as clubs, residentials etc) and if necessary develop strategies to address engagement issues that are identified.

Review provision for students with physical disabilities and mobility issues and ensure that curriculum and wider college experience is fully accessible as identified in the Accessibility Plan.

To enable the College 'experience' to more closely reflect and celebrate the multicultural country in which students live.

To reduce the incidence of prejudice-related bullying in relation to the protected characteristics listed in the Equality Act 2010.

To promote cultural development and understanding through a rich range of experiences both in and beyond the college.