DSTC Open Events 2023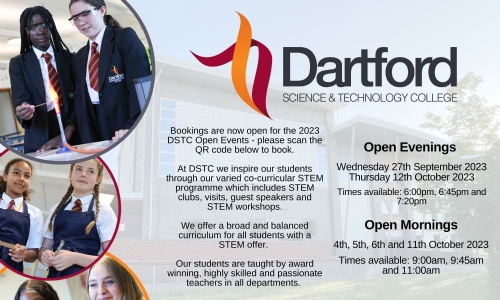 Thank you for considering DSTC for your daughter. We are delighted to offer a selection of Open Events that take place in the 2023 - 2024 academic year.
Please use the following form to book a visit on one of our DSTC Open Evenings and Open Mornings for 2023. These events are open to parents of children in Year 5 or Year 6 only.
https://docs.google.com/forms/d/14wiU9ibvWUoGzUROXnHP84MApV75SF1ELWYdWEfe8dk/edit#settings
For Open Evenings, each event has limited capacity for the Principal's speech. The Principal's talks are at the following times: 6.00pm, 6.40pm and 7.20pm. There will be no Principal's speech during Open Morning. For both Open Evenings and Open Mornings, please arrive within your time slot so that we can balance the number of families in attendance across the events.

Thank you in advance for supporting DSTC and for showing your interest in visiting us. We look forward to seeing you soon.