Geography
What happens in this subject?
Geography is our students' gateway into the rest of the world and so the Geography Department's aim at DSTC is to ensure that our students appreciate and understand the world in which they live. A high quality geography education should inspire in students a curiosity and fascination about the world and its people that will remain with them for the rest of their lives.
Geography at DSTC seeks to develop a sense of place and helps students make sense of their surroundings to gain a better appreciation and understanding of the variety of physical and human conditions on the Earth's surface. The subject extends students' interest and knowledge beyond their immediate experiences, using images and information to help them interpret people and concepts that they acquire from the media, the internet and textbooks.
Our intent for the curriculum is to underline and promote the vitally important role that Geography plays in understanding how the world works in an increasingly globalised society and economy. Key Stage 3 Geography at DSTC is a springboard not just towards further study at GCSE and A level but also to aid our pupils in their journey to becoming well rounded adults who can contribute positively in their local and global community.
Knowledge, application and skills are at the core of our 21st century curriculum. We will support the students to develop the essential employability, enterprise and transferable skills in data and resource analysis and interpretation through the curriculum content and how it is taught and delivered.
Our curriculum will both reflect and learn from the diverse cultural mix of our school and community and also help to enhance our student's cultural capital through the extensive range of topics and themes it will cover. We will also tackle difficult issues which will give the pupils the opportunity to discuss and debate social, moral, cultural and spiritual questions.
Fieldwork plays a vital role in the development of geographical skills and opportunities are built into the Scheme of Work in every year group, whether the school grounds are utilised or visits to the local and surrounding areas and beyond.
Building on from KS2 or KS3
Students arrive at DSTC from over 35 primary schools with differing experiences of Geography both in content and skills, so we do not assume they know everything from the KS2 national curriculum.
Most students arrive at DSTC with some map skills knowledge, so this is enhanced in the first few weeks in Year 7. Locational knowledge is very varied and often only linked to Year 6 residential opportunities, so a wide number of places are studied throughout the Key Stage 3 scheme of work.
Skills are integrated within the curriculum plan and spiralled throughout so that students have the opportunity to build on and develop higher order skills such as choropleth mapping, data analysis and graphical work.
KS3 Curriculum
Key Stage 3 Geography follows the 'Progress in Geography' scheme of work, enhanced with an opportunity for fieldwork in each year group to allow progression in the development of thought, concepts and knowledge. Challenge work and alternative case studies are used to further increase students' thought processes together with 'thinking hard' strategies.
Students study: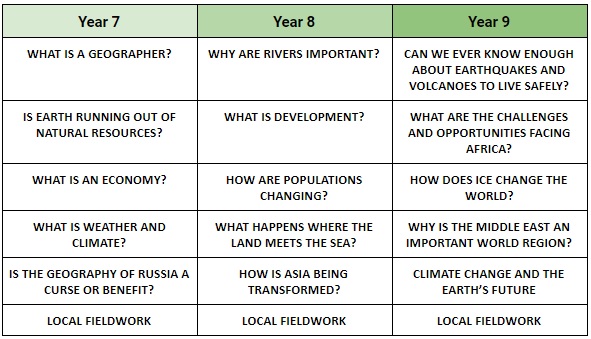 The spiral design of the curriculum is aimed at revisiting skills on several occasions to promote learners' confidence. Each time students revisit a topic or skill, they are exposed to more complex content, building on what they have already learnt. We ensure the level of challenge is high enough for the most able, with scaffold and support available for students who need it.
The Geography department homework support when needed and an 'EcoClub'.
KS4 Curriculum
Key Stage 4 Geographers study the Edexcel A specification over 2 years. The Key Stage 3 scheme of work provides a solid foundation, both in knowledge and skills.
Students sit 3 examinations at the end of Year 11:
Paper 1: 1 ½ hours - The Physical Environment (Changing landscapes of the UK, Weather Hazards and Climate Change and Ecosystems, biodiversity and management, Rivers & Coasts)
Paper 2: 1 ½ hours - The Human Environment (Changing Cities, Global Development and Resource management)
Paper 3: 1 ½ hours - Geographical Investigations: Fieldwork and UK Challenges (Rivers / Urban Areas / UK Challenges)
Students are taught entirely in mixed ability groups over three 1 hour lessons per week. The department offers lunchtime interventions for students that need it. Geography Ambassadors support the department with a number of key tasks.
Students attend two external fieldwork days: 1 local River Study and 1 Urban study in preparation for Paper 3.
Aspirations and KS5
Aspirations for students in Geography are high and extending thinking beyond the classroom is key to this. Geofiles are set as part of the homework programme for all Key Stage 3 students, allowing them to practise the skills they will need for further study at a higher or more advanced level.